How do I enroll?
It's easy! Submit the simple enrollment form to help us setup your online banking. You'll be managing your accounts online in no time!
If you need assistance or have any questions, give us a call at 1-800-823-2274. We are ready to help!
Already enrolled? Click the Login Tab on the left side of your screen to go to the main page, and Login at the top of the screen.




Need to send money to family or friends?

It is easy to get started. Simply log in to your online banking account and enroll in Bill Pay. Once your account is verified, return to Bill Pay and select the "Send Money With Zelle®" tab.
Stay on top of your finances with IB Alerts in Online Banking! IB Alerts allows you to customize your account alerts so you can follow the account activity that is important to you, such as automatic payments and deposits. You can set up your account alerts by logging into Online or Mobile Banking and clicking More and then clicking Alerts. You will enjoy personalized account tracking and peace of mind 24/7.
IB Alerts allows you to:
Monitor account balances and activity
Get deposit and withdrawal notifications
Control security alerts
And much more

Watch the video below to learn how to enable IB Alerts in online banking.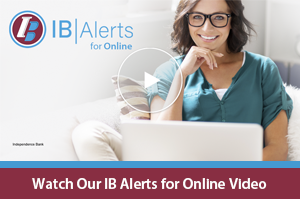 Need some help with your online banking?
If you currently have an account and are having trouble with Online Banking, please call us at 1-800-823-2274 for assistance during regular business hours.

Online Security
For your security, Independence Bank recommends that you periodically change your passwords and PINs. It is also recommended that for each site accessed requiring a password or PIN, you select a password or PIN unique to that site.
Your online security is important to us. Independence Bank is proud to deliver the highest level of security for our online banking customers. To learn more about our enhanced personal security system, please view the video below.