Depositing Checks with your phone is fast, easy and free!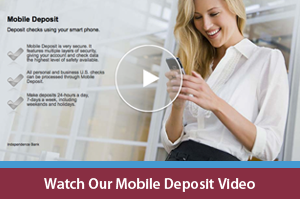 Mobile Check Deposit allows you to deposit checks from your mobile phone anywhere and anytime. This service takes convenience to a new level and gets your money into your account faster. Below are a few tips for successful mobile check deposit:
Checks must be endorsed with: 1) Account Number, 2) Signature, and 3) Please write "For Deposit Only."
Business account holders should also add the name of the entity on the account.
Please keep your paper check until the funds are posted to your account.
Funds are normally received within two business days.
Please see our instructional video for simple steps on using Mobile Deposit.